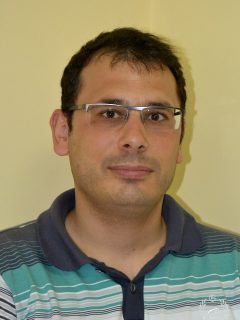 Dušan Jokanovic
Phone:
+381 (11) 3053 843
E-mail:
dusan.jokanovic@sfb.bg.ac.rs
Cabinet:
134
Consultation:
PhD Dusan Danilo Jokanovic was born on September the 28th 1980 in Belgrade. He finished primary school and gymnasium as the best pupil in his generation in Belgrade, too. He enrolled in the University of Belgrade Faculty of Forestry in the school year 2001/02, and he graduated there in 2008 at the Forestry Department. He defended his Bachelor thesis entitled: "History of hunting legislation in Serbia",in July the 4th 2008 (mentor PhD Dragan Gacic). PhD Dusan Jokanovic enrolled in doctoral studies at the University of Belgrade Faculty of Forestry in the school year 2009/10 at the Chair of "Seed Science, Nursery Production and Afforestation" of the Forestry Department. He defended his doctoral dissertation entitled: "Anatomical characteristics of Taxodiumdistichum (L.) Rich. on alluvial sites in Serbia" (mentor PhD Dragica Vilotic, full professor) on July 1st 2016 and became a doctor of biotechnical science for the scientific field of forestry.
PhD Dusan Jokanovic has been employed at the University of Belgrade Faculty of Forestry since September 2010. At first, he was an associate research trainee, and  thereafter he was engaged as an associate researcher. On 1st April 2016 he was elected teaching assistant. On December 20th, by decision of Biotechnical Sciences Council, PhD Dusan Jokanovic was elected assistant professor.
So far, he has published about 30 scientific papers and among them 5 are with impact factor (SCI). Very different issues are covered in his papers such as: Wood anatomy, Morphological features of some woody species, Physiological reactions of plants to some ecological factors, floristic and vegetation features of some plant associations, phytoremediation and heavy metals accumulation from plants vegetative organs, etc.
PhD Dusan Jokanovic participated in realization of 6 scientific projects financed by the  Ministry of Education, Science and Technological Development, and by the public company "Vojvodinasume".
He has been abroad (Vienna, Dusseldorf) a few times in order to improve his scientific and professional knowledge. In the summer of 2010 he got a scholarship from the "Goethe Institute" for staying and attending the most advanced German language course in Berlin. He spent a month there and it should be emphasized that PhD Dusan Jokanovic was chosen among more than 200 competitors.
He took part in many international conferences and in some of them he was a member of the organizational board, such as "Reforestation Challenges", that was held from 3rd to 6th June 2015 at the University of Belgrade Faculty of Forestry.
He has also been a member of scientific the society "Reforesta"
He is fluent in English and German at the level he can give lectures in both languages.
Research interests
Wood anatomy
Plant taxonomy
Forest botany
Medical plants
Plant physiology
Dendrochronology
Phytoremediation
PhD Dusan Jokanovic is married and has two daughters.
Engaging Teaching
Forest botany and wood anatomy (obligatory in undergraduate studies – Forestry Department)
Medical plants taxonomy (elective in undergraduate studies – Forestry Department)
Wood anatomy (obligatory in undergraduate  studies – Department for Technology, Management and Projecting Wood Products)
Industrial production of medical plants (elective in master studies – Forestry Department)
Comparative wood anatomy (elective in PhD studies – Forestry Department)
Plantation production of medical, aromatic and spice plants (elective in PhD studies – Forestry Department)