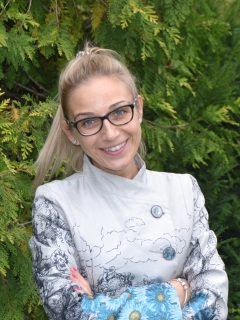 Jelena Nedeljković
Phone:
+381 (11) 3053 938
E-mail:
jelena.nedeljkovic@sfb.bg.ac.rs
Cabinet:
1
Consultation:
by appointment
Dr. Jelena Nedeljković was born on May 6th, 1984 in Loznica, where she finished elementary school and gymnasium. She completed her studies at the University of Belgrade – Faculty of Forestry in 2008. She finished her doctoral studies at the University of Belgrade – Faculty of Forestry in 2015, with an average grade of 10.00. She defended her doctoral dissertation, entitled "Small and medium enterprises based on non-wood forest products as a development factor of the private forestry sector in Serbia", in 2015 at the University of Belgrade – Faculty of Forestry (mentor: Prof. Dr. Dragan Nonić).
In the period 2009-2011, Dr. Jelena Nedeljković was awarded the scholarship for doctoral students from the Ministry of Science and Technological Development of the Republic of Serbia. She received the award for support of doctoral students in Europe from the European Forestry Institute (EFI), as well as the FOPER II (Forest Policy & Economics Education & Research in Southeast Europe) scholarship, a program to support mobility of doctoral students. In the period 2016 -2017, she was a postdoctoral researcher (as a fellow of the Alexander von Humboldt Foundation) at the Chair of Forestry Economics and Forest Planning, Faculty of Environment and Natural Resources at Albert Ludwig University in Freiburg, Germany.
As part of scientific and professional training, she stayed during 2012 at the BOKU (Universität für Bodenkultur) in Austria, the WSL Institute (Eidg. Forschungsanstalt für Wald, Schnee und Landschaft) in Switzerland and the Mediterranean Regional Office of the European Forest Institute in Spain.
So far, she has published over 90 publications and has participated in a number of international scientific conferences, symposia, seminars and trainings in the country and abroad.
As a researcher, she has participated so far in 9 international and 9 national projects.
Special topics
Forest policy, economics and organization of forestry and forest products trade
Research interests
Organisation and business administration in forestry

Organisation of public and private forestry sector
Organisation of nature conservation
Frameworks and support measures in forestry and nature conservation
Organization of business processes in forestry
Forestry supply chain organisation

Management of forest enterprises
Entrepreneurship and innovation in forestry
Forest and nature conservation governance
Protected areas' management
Climate change governance
Engaging Teaching
Undergraduate studies (Bachelor)
Compulsory subject: Organisation and business administration in forestry

Elective subject: Entrepreneurship and small and medium enterprises in forestry
Master's degree studies
Compulsory subject: Organisation and management of forest enterprises

Elective subject: Entrepreneurship in forestry

Elective subject: Management of protected areas
Doctoral studies
Elective subject: Entrepreneurship and project management in forestry
Selected papers
Chapters in international monographs
National monographs
Ranković N., Nonić D., Nedeljković J., Marinković M., Glavonjić P. (2012): Small and medium enterprises in the Timok forest area – system of support measures and model of organization [Mala i srednja preduzeća u Timočkom šumskom području – sistem mera podrške i model organizovanja], University of Belgrade-Faculty of Forestry, Belgrade. (270) ISBN 9788672990768 (in Serbian, with extended summary in English)
International journals (with IF)
National peer-reviewed journals 
Nedeljković J., Nonić D., Prvulović M., Ranković N. (2019): Possibilities of improving cooperation of managers and stakeholders in the national parks Đerdap and Kopaonik, Bulletin of the Faculty of Forestry 119 (105-144) https://doi.org/10.2298/GSF1919105N
Nonić D., Stanišić M., Nedeljković J., Ranković N. (2017): Cooperation in the climate change mitigation in forestry and nature protection at different levels of governance, Bulletin of the Faculty of Forestry 116 (99-140) https://doi.org/10.2298/GSF1716099N
Ranković N., Stanišić M., Nedeljković J., Nonić D. (2016): Strategic and legal framework in forestry and related sectors: climate change mitigation in European union and Serbia, Bulletin of the Faculty of Forestry 113 (99-132) DOI: 10.2298/GSF1613099R
Nedeljković J., Nonić D., Ranković N., Dragović N. (2014): Non-wood forest products based enterprises' cooperation and business networking forms in central Serbia [Oblici saradnje i povezivanja preduzeća koja posluju sa nedrvnim šumskim proizvodima u centralnoj Srbiji], Bulletin of the Faculty of Forestry 110 (121-144) DOI: 10.2298/GSF1410121N (in Serbian, with abstract and summary in English)
Nonić D., Avdibegović M., Nedeljković J., Radosavljević A., Ranković N. (2014): Sustainable governance in forestry and nature protection [Održivo upravljanje u šumarstvu i zaštiti prirode], Bulletin of the Faculty of Forestry, Special edition on the occasion of the conference: Forests of Serbia and Sustainable Development (113-140) DOI: 10.2298/GSF14S1113N (in Serbian, with abstract and summary in English)