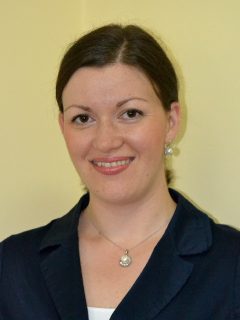 Marina Nonić
Phone:
+381 (11) 3053 872
E-mail:
marina.nonic@sfb.bg.ac.rs
Cabinet:
118
Consultation:
Tuesday 12h
Ph.D. Marina Nonic was born on February the 28th 1985 in Majdanpek, Serbia. She completed her primary education in 1999 in Donji Milanovac, and she graduated from the Third Belgrade High School in 2003. She enrolled in bachelor studies at the University of Belgrade-Faculty of Forestry in 2003/04 and graduated in 2008. She enrolled in doctoral studies at the University of Belgrade-Faculty of Forestry in 2009/10 and finished them in 2016 with a grade point average of 10.00. She defended her doctoral dissertation entitled "Improving mass production of leaf-ornamental beech cultivars by grafting", at the University of Belgrade-Faculty of Forestry in June 2016 and became a doctor of biotechnical science.
As for professional work, Dr. Marina Nonic passed a trainee exam in the nursery "Omorika" in Belgrade (within the program "The first chance 2009" related to the employment of young people). During a one-year-long trainee period, she got some practical knowledge related to seedling material production (vegetative and generative reproduction of woody species) and the design and establishment of green areas with different purposes. All these skills were confirmed with an appropriate certificate.
As for engagement in the teaching process, and in scientific work, since 2010/11, Dr. Marina Nonic has been engaged as a teaching fellow at the Chair of "Seed Science, Nursery Production and Afforestation" at the University of Belgrade-Faculty of Forestry. In 2011, she was engaged as a junior researcher, in 2012 as a research assistant, in 2013, as a teaching assistant, and from December 2016-2021 she was engaged as an assistant professor. Dr. Marina Nonić is currently engaged as an associate professor for the narrow scientific field: Seed Science, Nursery Production and Afforestation at the University of Belgrade-Faculty of Forestry in the following subjects: Forest Genetics, Plant Breeding, Breeding of Ornamental Plants (bachelor studies); subjects Conservation and Sustainable Utilization of Forest Genetic Resources and Quantitative Genetics (master studies); Molecular Genetics of Forest Trees, and Breeding for Selected Features (doctoral studies).
So far, Marina Nonić participated as a researcher in the realization of more than 20 national scientific projects, and 3 COST Actions. She has currently been engaged in the realization of 3 national projects, one COST Action, and 2 international projects ("SUPERB – Systemic solutions for upscaling of urgent ecosystem restoration for forest-related biodiversity and ecosystem services" (2021-2025) – Project funded by the Horizon 2020 Research and Innovation Programme under the EU Green Deal and "Forests in Women's Hands (Fem4Forest)" (2020-2022), Interreg Danube Transnational Programme).
She was a project coordinator in 2 national projects (financier: PE "National Park Kopaonik", Serbia): "Identification of endangered and legally protected species of trees and shrubs " (2020) and "Research project for the identification of endangered species of trees and shrubs in the II degree protection regime" (2021).
Marina Nonić is a member of the Serbian Genetic Society; Scientific Society "Reforesta"; Horticulture and Forestry Society from Transylvania. She was also engaged as a member of the organizational board in preparing and realization of international and national scientific conferences and symposia. In 2016, she has been named deputy head of the Laboratory of biotechnology at the Faculty of Forestry. She is in charge of secretary of the Chair of Seed Science, Nursery Production and Afforestation.
So far, Marina Nonic published more than 100 scientific papers. Her scientific work has mainly been focused on forest genetics, plant breeding, ornamental plant breeding, conservation and sustainable use of forest genetic resources, and production of planting material, as well. She is co-editor of the international monograph "Forests of Southeast Europe under a Changing Climate: Conservation of Genetic Resources" published by Springer, and author of the University book "Forest genetics" published by University of Belgrade – Faculty of Forestry in 2021 (Nonić, M., Šijačić-Nikolić, M. (2021): Šumarska genetika. Univerzitet u Beogradu – Šumarski fakultet, 1-298). She was a reviewer of scientific papers in the international (SCI list) and national journals.
Awards and Grants
CEEPUS Teaching Mobility Grant (online)
CEEPUS III Network no. CIII-BA-1403-01-1920-M-132538 "Managing Forests for Climate Change"
University of Zagreb – Faculty of Forestry, Zagreb, Croatia, Maj, 2020
Host: Prof. Dr. Saša Bogdan
CEEPUS Teaching Mobility Grant
CEEPUS III Network no. CIII-BA-1403-01-1920-M-132538
"Managing Forests for Climate Change"
University of Ljubljana – Biotechnical Faculty, Ljubljana, Slovenia, December 2019
Host: Prof. Dr. Robert Brus
ERASMUS+ Teaching Staff Mobility Grant
Stefan cel Mare University – Faculty of Forestry, Suceava, Romania, May 2019
Host: Prof. Dr. Liviu Nichiforel
Grant for Workshop "New developments in the field of genomic technologies for solving practical conservation issues"
COST Action CA18134: G-BIKE, Portorož, Slovenia, March, 2020
Organizers: Prof. Dr. Gernot Segelbacher and Prof. Dr. Elena Bužan
Grant for "Sharing Perspectives Workshop"
EU Horizon 2020 GenRes Bridge project, Tuusula, Finland, October 2019
Organizer: Dr. Michele Bozzano
Grant for scientific research within "European Union Seventh Framework Programme FP7 – Trees4Future"
Austrian Federal Office and Research Centre for Forests (BFW) – Department for Forest Genetics
Vienna, Austria, April – May 2013
Host: Dr. Berthold Heinze
Grant for Short-Term Scientific Mission (STSM)
COST Action FP0905: "Biosafety of forest transgenic trees: improving the scientific basis for safe tree development and implementation of EU policy directives"
Region of Tuscany – Regional Government; Directorate-General for Competitiveness and Development and Plant Genetics Institute, National Research Council of Florence, Italy, May 2011
Host: Dr. Cristina Vettori, Fabio Boscaleri
Engaging Teaching
Forest Genetic
Plant Breeding
Breeding of Ornamental Plants
Conservation and Directed Utilization of Forest Genetics Resources
Quantitative Genetics
Molecular Genetics of Forest Trees
Breeding for Selected Features
Selected papers