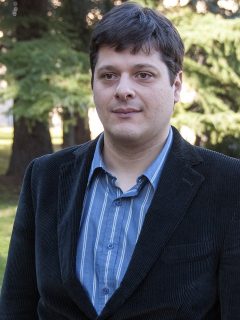 Marko Perović
Phone:
+381 (11) 3053 801
E-mail:
marko.perovic@sfb.bg.ac.rs
Cabinet:
122
Consultation:
Autumn semester: Wednesday 1-2 PM and Friday 10-11 AM. Spring semester: Tueday 2-3 PM and Friday 11-12 AM
Dr Marko Perović was born in July 23rd 1977. in Sombor, Serbia. He graduated at the Faculty of Forestry-course Forestry in 2002. He finished magister work in 2007., and deffended doctoral dissertation in 2014., under the title: "Taxonomy and site influence on characteristics of Greek maple (Acer heldreichii Orph.) in Serbia", at the University of Belgrade-Faculty of Forestry.
In the period from February 23rd to May 23rd 2004. as well as from November 26th to December 22nd 2007. he conducted scientific specialization in Johan Heinrich von Thünen Institute in Hamburg, Germany, as scholarship holder of the University of Hamburg. In the period from July 25th to October 15th he had scientific specialization in Georg-August University in Göttingen, Germany. From May 8th and 22nd he had a short term scientific research in  Institute for plant genetics in Florence, Italy.
He is a co-author of university textbook "Dendrology" (2016), auxiliary textbook "Practicum of Dendrology" (2016)  and guidebook "Guidebook for Determination of most important native Oaks" (2012). He published over 50 scientific papers. He participated as a mentor, or a member of defending comission of 12 master theses and 95 final papers. He was involved in realization of 10 scientific projects, and two COST actions.
He speaks English, German and Russian language.
Special topics
dendrology, floristics, plant ecology, ecology of plant communities
Engaging Teaching
Bachelor studies
Dendrology
Endemic and endangered woody species in Serbia
Economic geography of forest resources
Master studies
Dendrology
Doctoral studies
Dendrology
Selected papers
Cvjetićanin, R., Perović, M. (2007): Autohtona dendroflora nacionalnog parka "Tara". Zbornik radova "Osnovne ekološke i strukturno proizvodne karakteristike tipova šuma Đerdapa i Tare". Ministarstvo nauke Republike Srbije, Šumarski fakultet Univerziteta u Beogradu, NP "Đerdap" i NP "Tara". Str. 153.-162.
Perović, M, Cvjetićanin, R. (2009): Ecological and floristic characteristics of the new subassociation Aceri heldreichii–Fagetum subass. carpinetosum betuli on mt. Rudnik. Glasnik Šumarskog fakulteta 100. Beograd. Str. 179-190
Perovic, M, Prinz, K, Finkeldey, R, Cvjeticanin, R. (2012): Genetic variation of greek maple (Acer heldreichii Orph.) populations in the western balkan region. Allgemeine Forst- und Jagdzeitung 11-12/2012. J.D. Sauerländer's Verlag. Bad Orb. Стр. 248-255.
Cvjetićanin, R, Košanin, O, Perović, M, Novaković-Vuković, M. (2014): Florističke i edafske karakteristike šume kitnjaka i vresa (Calluno–Quercetum petraeae Schlüter 1959) na području Malog Zvornika. Šumarstvo 3-4/2014. Beograd. Str. 63-73
Novaković-Vuković, M, Perović, M. (2014): Uporedna analiza florističkog sastava šume sladuna i cera i veštački podignute sastojine crnog bora u Lipovici kod Beograda. Šumarstvo 3-4/2014. Beograd. Str. 75-89
Perović, M., Cvjetićanin, R. (2015): Severnoameričke vrste u šumskim kulturama i plantažama u Srbiji. Šumarstvo 3/2015. Beograd. Str. 75-88
Gazdić, M, Pejović, S, Gazdić, J, Perović, M, Caković, D. (2016): Floristic composition and ecologycal analysis of the mixed forests (beech, fir, spruce) in the management unit Bjelasica (Bjelasica Mt, Montenegro). Agriculture & Forestry. Vol. 62, 3. Podgorica. Str. 207-221
Batos, B., Miljković, D., Perović, M., Orlović, S. (2017): Morphological variability of Quercus robur L. leaf in Serbia. Genetika, Vol. 49, No 2; Str. 529-541
Popović, A., Perović, M. (2019): Novo nalazište munike (Pinus heldreichii Christ) u Srbiji na lokalitetu "Đerekarski Omar" u okolini Tutina. Šumarstvo 3-4. Str 131-141
Kosanin, O., Perovic, M., Knezevic, M., Cvjeticanin, R., Ljubicic, J. (2021). Forest sites mapping in Serbia. Fresenius Environmental Bulletin. Volume 30- No. 07/2021, 8244-8251