XVIII International Conference of Young Scientists "FORESTS OF EURASIA – SERBIAN FORESTS"
07/06/18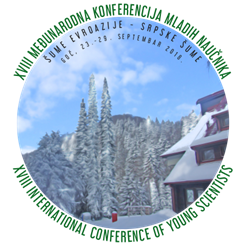 XVIII International Conference of Young Scientists
«FORESTS OF EURASIA – SERBIAN FORESTS»
dedicated to the academician
Prof. Žarko Miletić (1891-1968)
SERBIA ☼ BOSNIA AND HERZEGOVINA
23rd -29th September, 2018
The Organizing Committee of the XVIII International Conference of Young Scientists "Forests of Eurasia-Serbian Forests", dedicated to the academician Prof. Žarko Miletić (1891-1968), invites you to participate in the Conference, which will be held from 23rd to 29th September 2018 at the experimental estate Goč of the University of Belgrade Faculty of Forestry.
Conference program HERE.
Registration form HERE.
Program committee HERE.
Organisational committee HERE.