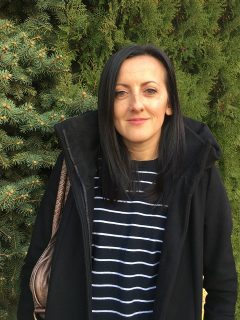 Jelena Beloica
Phone:
+381 (11) 3053 875
E-mail:
jelena.beloica@sfb.bg.ac.rs
Cabinet:
111
Consultation:
Monday, 10‒11h
Jelena Beloica was born on February 29, 1980, in Kraljevo. She graduated Faculty of Forestry in Belgrade in 2005, Department of Landscape Architecture and Horticulture. In 2008. she enrolled in PhD studies at the Faculty of Forestry, department Ecological Engineering in the Protection of Soil and Water Resources. In 2015. she defended her PhD thesis: "The process of acidification as a factor of land degradation in eastern Serbia" and received a scientific title of doctor of biotechnical sciences.
As a beneficiary of the Ministry of Science and Technological Development of the Republic of Serbia, since 2007 she has been engaged in several scientific projects of the Faculty of Forestry: "Basic Structural and Production Characteristics of Forest Types in the Kopaonik National Park and the Tara National Park", "Bioecological Characteristics of Forest Ecosystems in the Kopaonik National Park and the Tara National Park in relation to the principle of sustainable management" and "Research on Climate Change and their Impact on the Environment: Monitoring of Impact, Adaptation, and Mitigation".
In 2014 she received scholarship of the multidisciplinary program for education 'Sciences for DIPLOMAzia' founded by The Ministry of Foreign Affairs and International Cooperation-DGSC MAE. She attended 6-month course (May 2014- November 2014) "Management and Usage of agri-food resources with the aim of fostering sustainable agriculture and forestry as well as reduction of the effects of climate changes", in Institute for Sustainable Plant Protection, National Research Council – IPSP CNR, Florence.
Since 2011, she is employed at the Faculty of Forestry University of Belgrade.
Membership in Professional Asspciations:
ICPIM, IPCM&M (CLRTAP, International Cooperative Programs of Air Pollution Effects on Ecosystems);
AIS3 group (Association of Italian and Serbian Scientists and Scholars, www.ais3.rs).
Serbian Society of Soil Science – SDPZ (www.sdpz.rs);
Serbian association of Landscape Architects (www.upa.org.rs);
Scientific area
Ерозија и конзервација земљишта и вода
Research interests
Air pollution and forests ecosystems, Restoration ecology
Engaging Teaching
Bachelor's degree studies
Air pollution and forest ecosystems
Soil and bioengineering techniques
Master's degree studies
Soil and water degradation and global change
Soil degradation models
Agroforestry systems
Ecological effects of forest amelioration
Doctoral studies
Изборни
Pollution and soil quality
Selected papers
Beloica J., Čavlović D., Obradović S., Đurđević V., Miljković P. (2018): Process-based and geospatial modelling of future forest biodiversity and dynamics under climate and air pollution scenarios (Case study: Norway Spruce forest, NP Kopaonik), FORESTS OF EURASIA SERBIAN FORESTS, FORESTS OF EURASIA SERBIAN FORESTS, 1, pp. 209 – 218, 978-86-7299-285-4, Goč, Srbija, 23. – 29. Sep, 2018
Thomas Dirnböck, Gisela Pröll, Kari Austnes, Jelena Beloica, Burkhard Beudert, Roberto Canullo, Alessandra De Marco, et. al., (2018): Currently legislated decreases in nitrogen deposition will yield only limited plant species recovery in European forests, Environmental Research Letters, Volume 13, Number 12.
Maria Holmberg, Julian Aherne, Kari Austnes, Jelena Beloica, Alessandra De Marco, Thomas Dirnböck, et al. (2018): Modelling study of soil C, N and pH response to air pollution and climate change using European LTER site observations. Science of The Total Environment Volumes 640–641, str. 387-399.
Čavlović D., Beloica J., Obratov-Petković D., Đurđević V., Košanin O. (2017): Simulation of long-term changes in environmental factors and grassland composition in three protected areas of Serbia, Tuexenia, Göttingen, 37, pp. 431 – 446, 0722494X, 10.14471/2017.37.017.
Jelena Beloica, Dragana Čavlović, Vladimir Đurđević, Snežana Belanović Simić, Dragica Obratov-Petković, Ratko Kadović, Ivana Bjedov (2015): International Cooperative Programme on Modelling and Mapping of Critical Levels & Loads and Air Pollution Effects, Risks and Trends (ICP M&M) 25TH CCE WORKSHOP AND 31ST TASK FORCE MEETING on assessments of impacts of air pollution, and interactions with climate change, biodiversity and ecosystem services, Zagreb.
Čakmak D., Beloica J., Perović V., Kadović R., Mrvić V., Knežević J., Belanović S. (2014): Atmospheric Deposition Effects on Agricultural Soil Acidification State – key study: Krupanj Municipality, Archives of Environmental Protection, vol.40 (2), p.137-148.