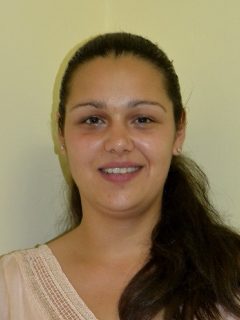 Jovana Devetakovic
Phone:
+381 (11) 3053 874
E-mail:
jovana.devetakovic@sfb.bg.ac.rs
Cabinet:
110
Consultation:
Forestry engineer Jovana Devetakovic was born on September the 23rd1986 in Barajevo. She attended primary school "Miodrag Vukovic-Seljak" in Barajevo and finished it in 2001 as one of the best pupils in her generation. In the same year (2001) she enrolled in the Medical School "Zvezdara" in Belgrade, the educational stream pharmaceutical technician and finished it with excellent grades. In 2005 she enrolled in the University of Belgrade Faculty of Forestry as a budget funded student. In March 2011 she graduated in the subject "Forest management planning" with the highest mark. During undergraduate studies, she was rewarded many times as a student with the highest average mark in the generation, and her final grade point average was 8.94.
She enrolled in doctoral studies at the same Faculty in October 2011 at the Chair of "Seed Science, Nursery Production and Afforestation".
She spent one year doing professional work in "Zelenilo Beograd".
Since 2013, she has been engaged in exercises in the subject "Seed Science, Nursery Production and Afforestation" at the Department of Forestry, and also in the subject "Seed Science and Nursery Production" at the Department of Ecological Engineering for water and soil resources protection at the Faculty of Forestry of Belgrade University.
She has been a member of the Genetic Society of Serbia and Scientific-Professional Society called "Reforesta".
She has been engaged in 6 domestic and one international scientific project as a research associate.
She speaks English, has basic computer knowledge and driving license of "B" category.
Jovana Devetaković is married and has one child.
Engaging Teaching
Seed science, Nursery Production and Afforestation
Seed Science and Nursery Production