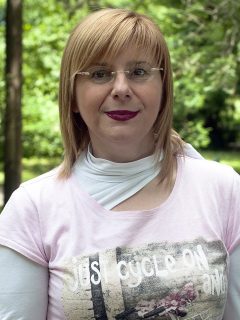 Biljana Jović
Telefon:
+381 (11) 3053 937
E-mail:
biljana.jovic@sfb.bg.ac.rs
Kabinet:
kabinet br. 2 (novo krilo)
Konsultacije:
ponedeljak, 12 časova;
Dr Biljana Jović rođena je u Beogradu, diplomirani je inženjer šumarstva za pejzažnu arhitekturu, magistrirala i doktorirala na Arhitektonskom fakultetu Univerziteta u Beogradu na naučnoj oblasti koja ima dvojni karakter: naučni i umetnički. Stekla je zvanje magistra (2006. godine) i doktora tehničkih nauka (2012. godine). Doktorsku disertaciju pod nazivom: Geometrijska edukacija na polju vizuelizacije i eksperimentalnog dizajna primenom virtuelnih tehnologija odbranila je 2012. godine na Arhitektonskom fakultetu Univerziteta u Beogradu. Bavi se proučavanjem geometrije i grafike kroz edukaciju. Pokretač je kreativne platforme "Radionica Geometrija" pri Šumarskom fakultetu. U svom radu prožima geometriju, grafiku, nove tehnologije i intervencije u prostoru. Usavršavala se na Tehnološkim Univerzitetima u Austriji (TU Beč) i Nemačkoj (TU Drezden). U svom radu objedinjuje pristup pejzažnog arhitekte kao inženjera i umetnički pristup koji u geometrijskim principima pronalazi lepotu i izraz. Učesnica projekata Ministarstva prosvete, nauke i tehnološkog razvoja. Koautor je dva projekta Ministarstva kulture i informisanja 2015. godine. Učesnica je više međunarodnih projekata. Članica je Srpskog udruženja za geometriju i grafiku (SUGIG) i Internacionalnog udruženja za geometriju i grafiku (International Society for Geometry and Graphics ‒ ISGG). Član radih tela i recenzent na Internacionalnim Konferencijama za Geometriju i Grafiku BALTGRAF 2013. Riga, Letonija; ISGG 2014. Insbruk, Austrija; ISGG 2016. Peking, Kina; AFGS 2017 Tokio, Japan; ISGG 2018. Milano, Italija; AFGS 2019. Kunming, Kina; ISGG 2020 Sao Paulo, Brazil; APLIMAT2019 i APLIMAT 2020 Bratislava, Slovačka; eCAADe 2021, FTN, Novi Sad, Srbija; AFGS 2021, Hong Kong;
ADMC2017finalist: http://admc2017.graphicscience.jp/finalist/10_index_detail.html)
Učesnica letnje škole TU Drezden 2018, Summer school LGLS at the TU Dresden – full version: https://www.youtube.com/watch?v=6ZDpHvWthRI
Awarded a Cumulus Plus+ grantee– Global Creative linking association- Cumulus Rovaniemi, Finland 2019:
https://www.cumulusassociation.org/my-cumulus-plus-story-by-biljana-jovic/
Ambasadorka projekta EU: Worth partnership project ambassador: https://www.worthproject.eu/biljana-jovic-2/
Uža naučna oblast
Nacrtna geometrija i Geometrija arhitektonske forme
Oblast istraživanja
Geometrija i grafika; nacrtna, projektivna i konstruktivna geometrija; pejzažnoarhitektonska grafika; vizuelizacija u pejzažnoj arhitekturi; geometrijsko modelovanje; biomimetika; eksperimentalni dizajn; biodizajn.
Angažovanje u nastavi
Osnovne studije
Master studije
Doktorske studije
Odabrani naučni radovi
Jovic, B., Cucakovic, A., Markovic, M., Cvijic, K. (2020) Biomimetic Approach to Parametric Flower Modeling, Conference proceedings ICGG 2021; Part of the Advances in Intelligent Systems and Computing book series (AISC, volume 1296) https://link.springer.com/book/10.1007/978-3-030-63403-2 under exclusive license to Springer Nature Switzerland AG 2021 L.-Y. Cheng (Ed.): ICGG 2020, AISC 1296, pp. 244–251, 2021. ISSN 2194-5357 (print) ISSN 2194-5365 (electronic) ISBN 978-3-030-63402-5 ISBN 978-3-030-63403-2 (eBook) DOI: 10.1007/978-3-030-63403-2_22

Cucakovic, A., Jovic, B., Ocokoljic, M., Markovic, I., (2020) The Contemporary Visualization and Modelling Technologies and Techniques for The Design of The Green Roofs, THE 7™ ICGG CONFERENCE | MONGEOMETRIJA 2020 1 PROCEEDINGS |Belgrade: 18-21 September 2020; pp.283-294; ISBN 978-86-6060-046-4; SUGIG Beograd

Jovic, B., Cucakovic, A., Obratov-Petković, D., Ždímalová, M., Komnenov, M., (2020) Transposition of Biomimetical Principles into Generative Design: Example of the Species Campanula patula L. Book Title: Faces of Geometry, The Author(s), under exclusive license to Springer Nature Switzerland AG 2021 P. Magnaghi-Delfino et al. (eds.), Faces of Geometry, Lecture Notes in Networksand Systems 172, DOI: 10.1007/978-3-030-63702-6_11

Jović, B., Mitić, A., (2020) Exploration of nature-based biomimetic approach in landscape architectural design: parametric study of candelabra model design, Visual Computing for Industry, Biomedicine, and Art 3:25, VICO-D-20-00017R1, Springer, DOI: 10.1186/s42492-020-00060-y

Jović, B., Čučaković, A., Nestorović, M., (2016): Polyhedron Construction By Using Multimedia Tools In Geometry Education, Proceedings of the 17th International Conference on Geometry and Graphics (ICGG 2016), (pp. 333‒334), ISBN 978-7-5682-2814-5, Beijing, China, August 4‒8, 2016, [M33].
Mihailo Grbić , Aleksandar Čučaković, Biljana Jović, Miloš Tripković, Garden cultural heritage spatial functionalities: The case of anamorphosis abscondita at Vaux-le-Vicomte, Journal of Cultural Heritage, Elsevier, Available online 19 September 2015, doi:10.1016/j.culher.2015.08.007 JCH 18 (2016), pp 366‒369 [M22].
http://www.sciencedirect.com/science/article/pii/S1296207415001387
Nestorović Miodrag, Čučaković Aleksandar, Jović Biljana, Teofilović Nataša. (2014). Geometrical Structure Analysis of Four Beijing Olimpic Buildings. Izgradnja (Construction) (2014), No 11‒12, pp.500‒506, UDK 514.144, ISSN 0350-5421, COBSIS.SR-ID 55831, [M51].
Čučaković A., Jović B., Constructive Geometry Education by Contemporary Technologies SAJ_2011_3_ Serbian Architectural Journal, original scientific article, approval date 12.06.2011. UDK BROJEVI 514.18:62 ID BROJ 184977420 p. 164‒183, [M51].
Jovic,B., Tripkovic,M., Čučaković A., Geometrijska korelacija obrazca kulturnog predela i lista vrstePrunus domestica L., Glasnik Šumarskog fakulteta, Beograd, 2011, br. 104, str. 29‒40 UDK: 514-7:|911.53+581.45,Originalni naučni rad DOI:10.22989/GSF1104029J, [M51].
Biljana Jović, Aleksandar Čučaković, Miloš Tripković: Visual structure analysis of multiplied geometric patterns and abstract geometric compositions, 17th International conference on geometry and graphics, pp 195-197, 4–8 August, 2016, Beijing, China. ISBN 978-7-5682-2814-5
Aleksandar Čučaković, Biljana Jović, Mirjana Komnenov: Biomimetic Geometry Approach to Generative Design, Periodica Polytechnica Architecture, Volume Vol. 47, No. 2 (2016), pp. 70-74. paper 10082, DOI: 10.3311/PPar.10082, Creative Commons Attribution. (2016.), https://pp.bme.hu/ar/article/view/10082
Aleksandar Čučaković, Biljana Jović, Miloš Tripković: Paper strips driven design – application on doubly curved surfaces FME Transactions (2017) 45, pp251-255 VOL. 45, No 2, 2017 ▪ Belgrade, Serbia, , Beograd
Čučaković,A., Jović, B., Tomićević – Dubljević, J., Stojanović, J.: Interpretacija projektantskih rešenja primenom digitalne grafike, Izgradnja 71 (2017) 3-4, str. 87-95, UDK:004.932, Originalni naučni rad, ISSN 0350-5421
Aleksandar Čučaković, Biljana Jović, The advantages of using digital 3d animation in geometrical education, SAJ_2017_9_ Serbian Archtectural Journal, polemical article, approval date 10 04 2017.
Jović. B. Biomimetički principi u pejzažnoarhitektonskom dizajnu, predavanje po pozivu na Simpozijumu "Pejzažna hortikultura 2018" sa temom: Zavod za unapređivanje obrazovanja i vaspitanja priznaje Simpozijum kao oblik stalnog stručnog usavršavanja. Predavanje održano na Šumarskom fakultetu 13.2.2018. Rad štampan u Zborniku radova  petnaestog Simpozijuma iz oblasti pejzažne hortikulture – Univerzitet u Beogradu – Šumarski fakultet Beograd strane od 104 do 114, Izdavači: Udruženje za Pejzažnu hortikulturu Srbije i Univerzitet u Beogradu – Šumarski fakultet, ISBN 978-86-916397-5-4, CIP –Katalogizacija i pblikacija Narodna biblioteka Srbije 635.9(082) 712(082), COBISS.SR-ID 257485580 Štampa: Rival copy d.o.o., Batajnica-Zemun, Tiraž 150, Godina izdavanja 2018.
Aleksandar A. Čučaković, Dragica D. Obratov- Petković, Biljana S. Jović, Anđela D. Mitić : PARAMETRIC MODELING AS GEOMETRIC TOOL FOR DESIGNING URBAN MODEL OF BIOMORPHIC FORM INSPIRED BY FLOWER OF BELL FLOWER (CAMPANULA PERSICIFOLIA L.) MONGEOMETRIJA 2018, Novi Sad, Serbia, ISBN 978-86-6022-055-6, pp 117-125, The 6th International Conference on Geometry and Graphics, June 6th – 9th 2018, Faculty of Technical Sciences, Novi Sad, Publishers: Serbian Society for Geometry and Graphics (SUGIG), Faculty of Technical Sciences, University of Novi Sad, Serbia. COBISS.SR-ID 324344839, CIP – Katalogizacija u publikaciji Biblioteka Matice srpske, Novi Sad 514.18(082) 004.92(082)
Jovic B. Takashi O. Sato N. Research on an effect of providing user interaction for graphic education, The 18th International Conference on Geometry and Graphics, Milano, Italy, August 3-7, pp 366-368, International Society for Geometry and Graphics, ISBN 97888-6493-044-2, https://www.springer.com/us/book/9783319955872
Jovic B. Čučaković A. Tomićević Dubljević J. Mitić A. Examination of the visual experience of biomorphic form materialized in urban design, The 18th International Conference on Geometry and Graphics, Milano, Italy, August 3-7, pp 366-368, International Society for Geometry and Graphics, ISBN 97888-6493-044-2, https://www.springer.com/us/book/9783319955872
Čučaković,A., Jović, B., Teofilović, N., Brajković, J.: Implementacija novih medija sa ciljem unapredjenja percepcije i konstrukcije geometrijskih formi u inženjerskoj edukaciji, Izgradnja 72 broj 11-12 (2018), UDK 624+71+72(05) str. 567-575, UDC:004.925.8, Originalni naučni rad, ISSN 0350-5421.
Biljana Jović, Daniela Velichova, Milena Cvetić: Golden section: Application in domain of landscape architecture, Slovak Journal for Geometry and Graphics, Volume 15 (2018), No. 30 ISSN 1336-524X, pp 5-18, Slovak Society for Geometry and Graphics, SSGG, www.ssgg.sk
Biljana S. Jović, Andjela D. Mitić: INTRODUCTION OF NATURE FORMS THROUGH URBAN DESIGN: BIOMIMETIC METHOD IN THE PROCESS OF DESIGNING CANDELABRA MODEL, Proceedings of 12THASIAN FORUM ON GRAPHIC SCIENCE ©2019 AFGS, 9–12 AUGUST, 2019, KUNMING, CHINA http://afgs2019.cgn.net.cn/